Whether you like it or not, Bluetooth earbuds are about to become far more popular. Popular might not even be the right word—at this point they're more of a necessity, unless you want to live your life with dongles. Both Apple and Google have done away with the 3.5mm headphone jack, and though Samsung owners can laugh now, I wouldn't be surprised to see Samsung do away with it in the next S-phone. This is the world we're living in now, but it doesn't have to be all bad. There are plenty of Bluetooth earbuds out there that are pretty good. If you're going to be forced into living in a Bluetooth world, why not explore the options and make the best of it?
The Best Bluetooth Earbuds are the Sennheiser HD-1 in-ears
If we had to pick a "one size fits most" option, we're going with the Sennheiser HD-1's. #Donglelife aside, no headphone jack on the latest flagship phones means you're going to be using your Bluetooth headphones a lot more than you're used to, so they need to meet certain requirements. For one you need them to be comfortable, and as a pair of neckbuds made of sheepskin leather these shouldn't give you any problems. They're smooth to the touch and flexible enough that you can leave them around your neck when you're not using them without feeling uncomfortable. As much as we like the build and design of these there is one downside that's worth mentioning.
Any personal audio product also needs to sound good, and Sennheiser's got that on lockdown. Of course it probably won't measure up to the best wired offerings from the company, but as far as Bluetooth headphones go, the HD-1 is a competent offering. For the purists, the HD-1 has aptX and AAC support as well, so as long as your source device is compatible: you'll be able to take full advantage of those high-bitrate codecs. You can learn more about this feature down below in the "What you should know" section, but just know it means that the data transfer is better than most.
You'll get a somewhat airy sound (which is pretty impressive considering these are Bluetooth) with plenty of clarity in the mids and high end. The one aspect that might leave you a bit wary is the bass, but I'm sure plenty of people will find it more than enjoyable. Overall the sound experience is a good one, which alone will make the purchase worth it to most.
Another super important thing to think about is battery life. Because these are Bluetooth, you can't just plug them in when the battery dies. So finding a pair of headphones that strike a balance between a sleek design and a practical battery life is key. Again, the neckband comes to the rescue: where other headphones tend to eschew a big battery in favor of design and other features (looking at you, Google), the Sennheiser HD-1 promise a solid 10 hours of constant playback. The average tends to be around 7-8 and that extra three hours could be the difference between a normal commute home and a silent one.
Who should buy this
The HD-1's are for the person who always listens to music or podcasts on their commutes and occasionally takes a call or two. The smart design won't look out of place in a classroom or a corporate environment, and you can just leave them around your neck as you go about your day. You'll get discreet playback controls along the inside of the neckband, which let you skip between tracks, pause or play music, and answer phone calls without getting in the way of the minimal design.
For the professional commuter
If you're looking to buy a pair of Bluetooth headphones that will last you, these might be the way to go. There's always cheaper Bluetooth options out there, but the experience you get is usually reflected in the price you pay. Though the HD-1 sounds better than most, it's still Bluetooth. So anyone looking for audiophile quality will probably have to lower their standards a bit.
Alternatives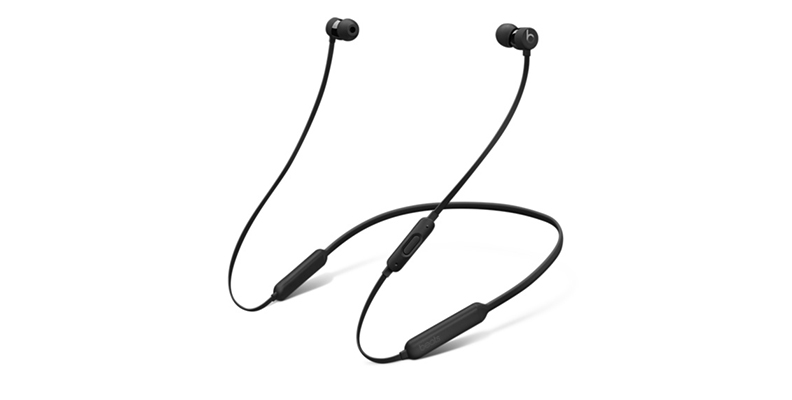 As great as wireless headphones can be, not having a physical connection is also its weak point. Skipping songs and dropped connections can get annoying, so if you're after the headphones with the strongest connection our pick are the BeatsX headphones. This is especially true if you have an iOS device, which thanks to the W1 chip makes pairing as simple as clicking a button that automatically pops up on the phone. If you're rocking an Android you'll still have to enter Bluetooth settings to pair but you also get a fairly strong connection, though admittedly not as strong as on Apple devices.
As far as sound quality goes, these are still a pair of Beats headphones we're talking about. So you'll still get the strong bass that they're known for, but the BeatsX tone it down a bit and doesn't offer the same depth as something like the Powerbeats3 which is a good thing. You'll get a strong low end if you like that, but also some good quality in the mids and vocal range which is good news for you podcast listeners. On top of that battery life is spec'd at 8 hours and thanks to the quick charging feature just 5 minutes on the charger will give you two hours of playback. Super useful if you forget to throw them on the charger at the end of the day.
If you want a pair of headphones that look as good as they sound, then you should check out the V-MODA Forza Metallo Wireless. V-MODA is known for their stylish design, and if you look at their CEO it isn't hard to see why. The Forza Metallo headphones were a solid pair of in-ears, and the wireless option maintained the best parts of them. These neckbuds offer a sleek design that's able to separate out some of the components resulting in a pair of headphones that's basically held together by thin, flexible cables. By default these are a smart-looking pair of headphones with a modern design, but like all V-MODA products you can also give it some flair with custom 3D printed caps made of everything from plastic to super expensive precious metals. Go crazy.
On the back you'll find an ergonomic neckpiece that houses the battery as well as most of the Bluetooth components. On each cable you'll also find two slim control modules with playback controls and mics in them. This not only helps keep the symmetrical aesthetic but results in much clearer calls thanks to the dual microphones. These are also sweat-resistant and weather resistant so if you want to go straight from the office to the gym you won't even have to take these off. On the more technical side of things these have aptX support, a 10 hour battery life, and also have a feature called FastCharge which gives you 2 hours of playback with just 15 minutes on the charger.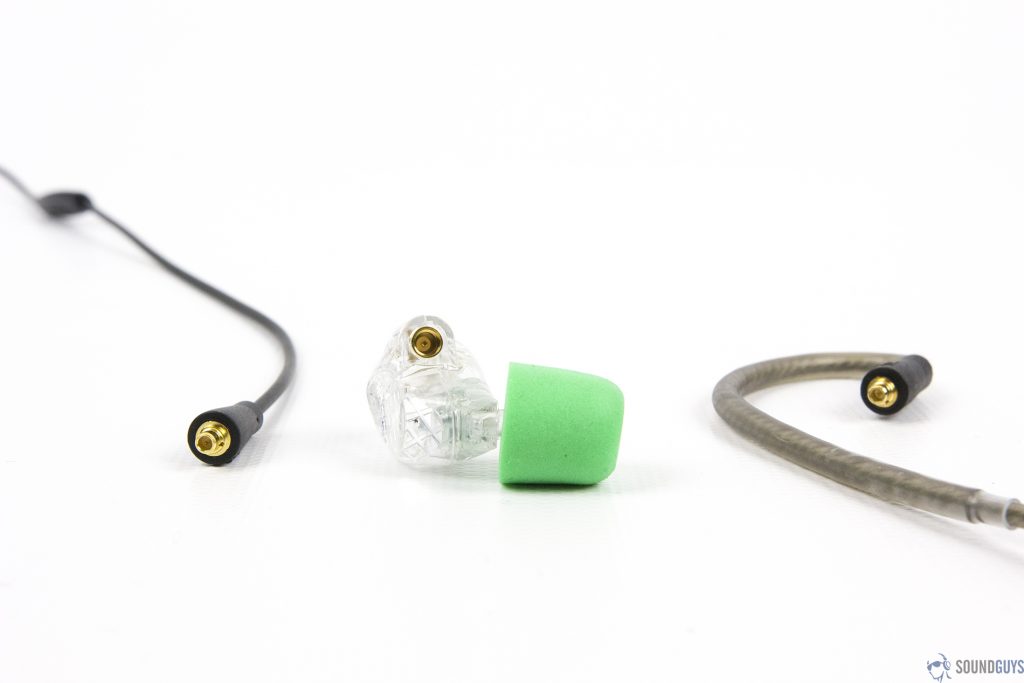 So what if you just want the best sound? What headphones do you get then? In our experience, you have to go with the ADV.Sound Model 3 in-ears. Not only do these headphones sound great, but they also also can switch between wired and wireless thanks to MMCX connectors that let you pop off the earbuds. On top of that they're less than $100 so you won't be breaking the bank either.
If you haven't heard of these before then I'll just jump to the coolest part about them: that interchangeable cable. These come with both a standard cable that end in a 3.5mm jack as well as a special necklace-like cable that lets you enjoy their sound wirelessly (kind of). Wireless in the sense that it's not connected to your phone, but you do have to wear it around your neck. Still, it's worth it considering the sound these are capable of producing. When using them wirelessly you'll get aptX and AAC support as well as a custom DSP that ADV.Sound threw on top to really push these to their limits.
If you use them wired you'll be able to take full advantage of their high-res certification, meaning the frequency response can go up to 40kHz. The downside to these headphones is that the battery life is only about 5 hours which means you'll probably end up charging them at some point if you plan on using these all day. But if you're looking to really enjoy your music these are worth it.
If you just aren't looking to spend too much but still want to take part in Bluetooth goodness, check out the CB3 Fit Sport. These only cost $39 but have almost all the same features as something like the Powerbeats3 headphones (minus the W1 chip fun stuff). Sweatproof? Check. These have an IPX4 certification so getting caught in the rain shouldn't be an issue. Good battery life? Check. These will give you about 7 hours of constant playback, three hours less than something like the Sennheiser HD-1 wireless in-ears but these also a fifth of the price.
They do tend to have a more narrow sound meaning you'll get less air in the highs and a somewhat punchier low end, but the quality itself is fine especially if you use these for something like going to the gym. The Fit Sport don't have a control module on the cable, but they do have some plastic playback controls built into the earbud that let you easily control your volume or skip between tracks without reaching for your source device. These won't blow you away but considering they cost only $39, it seems stupid to not make them the bang for your buck pick.
How we picked
Choosing which product is best changes depending on what the category is. If you're searching for the best headphones, we might focus more of our efforts on sound quality instead of cool extra features. On the flipside, if you're looking for the best waterproof speakers, chances are we're going to prioritize a strong, durable build over something like sound quality.
For this particular list, there were a few things that took priority. First was comfort. Plenty of people (myself included) relied on a favorite pair of cheap earbuds that you could just roll up and throw in your pocket after you're done with them. Not only did our picks have to be comfortable while wearing them, but they had to be convenient and comfortable when you're not wearing them as well. You'll find plenty a few neckbuds on this list for that reason, because when you're done listening to music you don't have to try and find space for them in your pocket. They're usually ergonomic enough that they won't get in your way if you leave them around your neck.
Second was sound quality. It would've been first, but if the headphones hurt when you wear them, who cares if they sound good? So we made sure to find headphones that on top of being comfortable, had a sound that wouldn't make you want to throw them in the garbage. That is admittedly difficult to do considering that Bluetooth inherently has some limitations, but even still we feel confident that our picks are the exceptions to that rule.
The third feature we focused on was one that you all voted on in a recent Twitter poll. If you didn't get to voice your opinion make sure to follow us on Twitter so you don't miss out next time! But the feature that most people care about after comfort and sound quality is battery life, which makes sense considering that for most Bluetooth earbuds a dead battery means no music.
What you should know
When picking Bluetooth headphones there are some things that are worth knowing. For example, what results in the best sound quality for audio? Well to be honest, the means by which Bluetooth audio is transferred from your source device to your headphones hasn't changed in quite some time. What has improved are the codecs. If you want to really dig into the thick of it make sure to read this great article by Rob Triggs over at our sister site Android Authority, but in short the reason is transfer speeds.
Codecs are the software that compress and decompress data. Think of it almost like a translator. The audio data coming from the phone is compressed into a small package (let's say aptX), which is then sent out over Bluetooth. The receiving Bluetooth device (in this case the headphones) receive that package and if speaks the language of aptX will know exactly how to uncompress (or translate) it back into the original data. It works the same with aptXHD, LDAC, etc. But every device knows how to speak SBC. It's the universal language, the default fall-back option for transferring audio data. So if your phone supports a codec that your headphones don't or vice-versa, both devices will just use SBC so you can still listen to music.
SBC is the default universal language for Bluetooth
Sounds great right? The only issue is that SBC doesn't have the highest data transfer at roughly 328kbps, which means that there's less quality to the sound. AptX is slightly better and supports up to 352kbps. Sony's LDAC can even go all the way up to 990kbps if you don't mind sacrificing some connection stability. So if you have a device that supports any of these high quality codecs you'll be able to get a better sounding experience.
Why you should trust us
I've been working for Sound Guys for almost three years, and in that time I've been lucky enough to listen to more headphones and speakers than I ever thought I would. Comparing sound is a great way to learn what your preferences are. There's nothing like a good 'ol A/B test to figure out what sounds better. Of course, everyone has different taste in sound, so take my opinions on it with a grain of salt (as you should any reviewer), but you can at least be certain that my taste in sound is consistent.
Then you've got Chris who between his years at Reviewed.com and USA Today has built up a giant resume of audio products that he's reviewed and tested. His knowledge of exactly how audio works (and all the other useful stuff he knows as well) still makes me question whether he's human or a robot. When it comes to techy know-how and devising new and accurate ways of testing products, he's the guy you want on your team.
Disclosure: We may receive affiliate compensation in connection with your purchase of products via links on this page. Even though we may receive compensation, we always give our honest opinions, findings, beliefs, or experiences on each product. See our disclosure policy for more details.
Adam Molina

Source link